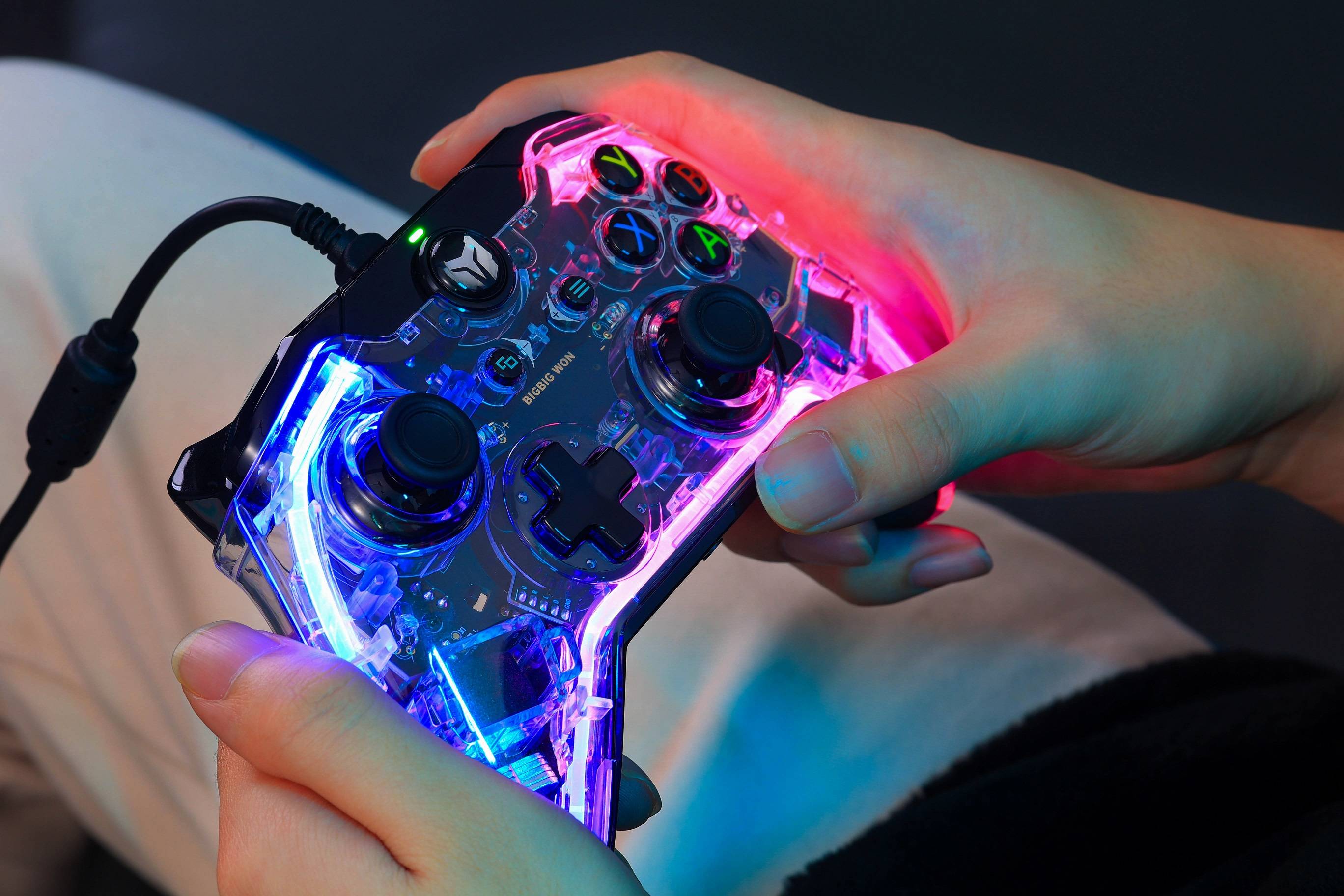 Finding the right controller is never easy! Do you opt for the official but limited-use merchandise, or do you try a third-party option? The latter choice can often be better value for money while also being more versatile and unique. I've tried many gamepads and have noted many positives and negatives. PowerA is fantastic, colourful, and great value for money. Whereas, Gamesir attracts an audience that desires a multi-faceted approach. Therefore, where does Bigbig Won stand amongst their peers? Let's unbox the Bigbig Won Rainbow controller and have a look!
The transparent case leaves nothing to the imagination. Your morbid curiosity is well and truly cured, as you see every part working without dissecting your accessory. Now, I found this to be fascinating and slightly distracting. However, you soon get used to the oddities, and it is no longer shocking. Yet, what never becomes old or tiresome is the vivid, in-built RGB light array.
This stunning light show illuminates your hands and looks fantastic next to your gaming machine. Talking of machines, the Bigbig Won Rainbow controller can be used with PC, Nintendo Switch and PlayStation (with an adaptor). Consequently, this is the perfect accessory for Microsoft Game Pass players or console gamers who love a traditional controller.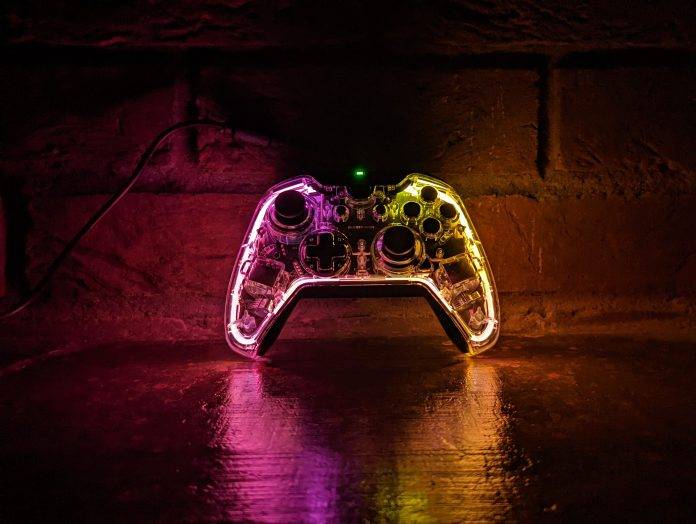 What's in the box of the Bigbig Won Rainbow controller?
· The striking and robust packaging fails to capture the vivid nature of this controller. Subsequently, its understated design isn't OTT and is easy on the eyes. Disappointingly, the manufacturer has relied on both plastic and cardboard for their packaging. This reduces the ability to recycle it and was disappointing to see.
· The Bigbig Won Rainbow controller. This clear transparent pad looks and feels similar to the official
Microsoft
accessory. Alongside this, there are mappable switches at the rear, as well as a function/turbo button.
· 3m micro USB cable. The cable is a good length and the quality is excellent. The long cable is especially useful when using it for
Nintendo Switch
or
PlayStation
.
· A comprehensive user manual. This isn't the easiest controller to set up, therefore this comprehensive guide is invaluable.
The Bigbig Won
Rainbow
controller.
Simple and
understated
packaging.
The Bigbig Won Rainbow controller.
Simple and understated packaging.
Micro USB 3m charging cable.
Micro USB 3m
charging cable.
The Bigbig Won Rainbow controller.
Simple and understated packaging.
Micro USB 3m charging cable.
Model: Rainbow
Package size: 174*174*67mm
Package weight: 465g
Product size: 174*67mm
Product weight: 226g
Charging method: Micro USB
Working platform: PC, Switch, PlayStation 4/5 with R90 adapter
Customise the Bigbig Won Rainbow controller to your liking. Moreover, if you use the
Aurora app
, you can alter the colour effects and this makes the unusual controller unique to you. It is simple to do and you can rock any colour under the rainbow. Simply connect using Bluetooth and adjust each segment as you wish. It was an extremely user-friendly app that can be used by the greatest technophobes.
You won't want to invest in new headphones because of a new controller. Luckily, the Bigbig Won Rainbow controller has a standard 3.5mm audio jack.
You can game like a pro thanks to the four customisable buttons, capture button, and turbo option. This controller allows you to map additional buttons, and they are placed conveniently on the underside of the pad. The soft rubberised switches are easily accessible and comfortable to use. By simply following the comprehensive user guide, you'll set up your controller how you wish. Furthermore, the capture button was phenomenal when playing on
PC
! Capture any images and share them straight from your hard drive.
Thanks to the exclusive
M3 Cpu Chip
, the Bigbig Won Rainbow controller is as responsive as using a mouse. It has accurate motion control and adjusts sensitivity depending on the genre you are playing. Consequently, this helps to immerse you in each game. Thanks to the GYROCON + accelerometer you experience accurate motion control assistance. This handy feature takes your FPS and racing games to the next level.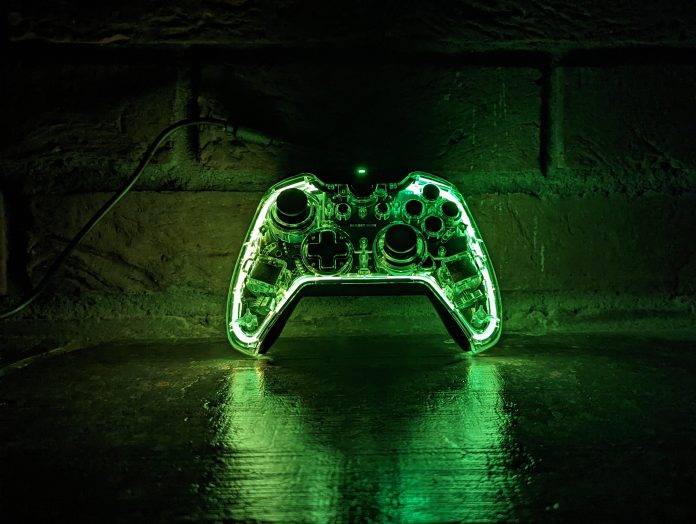 Is the Bigbig Won Rainbow controller worth it?
The Bigbig Won Rainbow controller isn't the cheapest accessory on the market, nor is it the most expensive. However, it is jam-packed with features! Furthermore, it is easy to use after the initial set-up, and vivid as hell. What's more, it feels nice in your hands, is accurate, and it's multi-faceted as well. However, I was disappointed it couldn't be used on Xbox.
For the money, you get an awesome controller that looks amazing in any gaming setup. Watching the internal parts move and operate was intriguing and the RGB lighting is unbelievably bright. Alongside this, the app is the perfect companion to customise your controller on the fly. With a 12 month warranty and excellent build quality, this is an easy to recommend
accessory
.
The Bigbig Won Rainbow controller proves that third-party accessories are worthy of your money. I loved its versatility, comfortable and well-built shell, and vivid RGB lighting. Furthermore, you get pro gaming features for a fraction of the price.